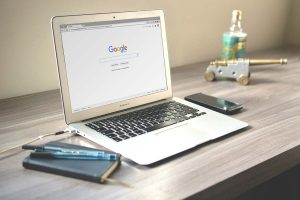 Paid marketing campaigns, while popular, are beginning to become increasingly difficult to manage from a cost perspective.  They're effective for immediate results and can, of course, directly impact your site's ranking, but they can also be a major dice roll. 
How much of a dice roll you ask?
Well, in some cases, the costs associated with specific keyword bidding on Google have increased by as much as 4000% – you can do the math on that one.
It's estimated that there are upwards of 13 billion searches within the United States alone, every month…
That's a big pie that everyone is looking to get a piece of. 
But fear not, advertising on Google can still make sense for businesses – even if yours is relatively small (or even a startup).
Compiling your keyword list
Keywords are the cornerstone of any paid search campaign. After all, you need to make sure your ads are displaying in front of people who are searching for words that are relevant to your product or service.
But how do you know which keywords are being searched for and the frequency of those searches?
Thankfully, there are many tools at your disposal when it comes to keyword research – many of them free – all of which can give you a good starting point for your campaign. Google even provides its own keyword planner that will give you general data  about the keywords you are looking to rank for.
Creating an extensive list of keywords and search phrases will give you a good starting point for your campaign, and that list will certainly be modified as your campaign progresses and matures.
Knowing your audience
Now that you have your keyword list, it's time to start considering how to target your ads. What does your potential client base look like? Who are you trying to appeal to? What information do you have about this audience that would be beneficial to apply to your paid search campaign?
This is when knowing your business and, more importantly, knowing your audience will have a dramatic impact on the success of your campaign.
When running paid ads on Google, you are given the ability to target by demographics: age, gender, interests, geographic location, and even things like occupations & income brackets.
If you're a small, local business selling women's shoes that historically appeal to an older demographic, you should probably be structuring your campaign targeting around women in your area that fall within a certain age group, and perhaps even a certain income bracket.
So you have your list of keywords, know who you want to be targeting, and you are about to hit the green light. It's time to watch the flood of new customer drastically increase your sales, right? Not necessarily.
Fine-tuning with negative keywords
Just because you have a great list of relevant keywords and have a pretty good idea of who your audience is, does not mean your campaign is going to be wildly successful right off the bat.
9 times out of 10, your campaign is going to need some fine-tuning.
You'll come to learn that one size does not fit all for any type of business in any location when it comes to paid ads on Google. One thing that is very important to remember here is that you are being charged for each click on your ad. Clicks do not necessarily equate to clients, but they DEFINITELY don't equate to clients when that user is searching for something *similar* to your product, but something entirely different at the same time.
Let's roll with the women's shoes that appeal to an older audience as an example.
There's most likely going to be boat loads of users searching for the phrase "women's shoes" at any given time on Google. You've narrowed your audience to a location, an age group, and maybe even excluded males from this target audience. But as your click budget decreases and your site traffic increases, you're not seeing anywhere near the results you were expecting.
There's a pretty good chance that when you look at the analytics of your campaign, you will be getting a lot of traffic for unrelated search terms…
women's running shoes
designer women's shoes
women's shoes in bulk
…and so on and so forth.
These are what you will use to build your negative keyword list. Essentially, this list will tell Google to exclude people searching for phrases that contain a specific list of keywords.
Be patient
Whether you are running paid Google ads for the first time, or you have run several successful campaigns in the past, you are almost guaranteed to have to go through a fine-tuning and modification process before your ads become more successful.
If done correctly, a little bit of patience and perseverance can go a long way in creating a highly profitable paid search campaign.